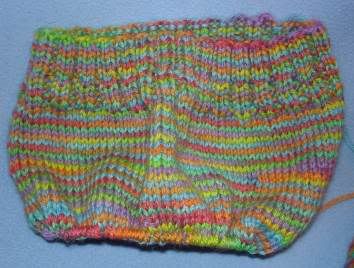 I'm finally far enough into the rainbow yarn that you can see how it's knitting up. I'm really happy that there's little to no pooling going on. Yay!
I also finished
Korrie's longies
out of the yarn she sent me. Those took a while, with thin tiny yarn. I need to make sure to either hold it double, or refuse to knit it, if I ever get yarn that thin again. :P
Anyway, this is progress as of about 10ish Friday night.