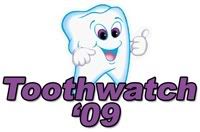 BUM BUM BUM!


We are in the midst of teething. It is going well. There is less sleeping than I'd like, and more fussing than usual, but compared to life without the amber necklace this is a cakewalk. I really wish I'd known about those things when Rowan was a baby.
So, someone decided to not have any teeth until she was 11 months old. And then she decided to get them all at once! She's popped 3 teeth in the past two weeks, and I believe there are more on the horizon. I present to you (crusty nose, random hair and all):

Two front teeth!
And on the bottom (accompanied by crusty black bean face):
In more tooth news, one of Rowan's two front teeth is loose. No pictures of that yet. We'll post a pic when it falls out.
In other news, the swine flu is going well. We are BIG fans of Tamiflu. No one else has started running a fever, so I'm hoping we're good. And yes, we will still be getting vaccinated. We have limp lungs around these parts. It's better to be proactive.