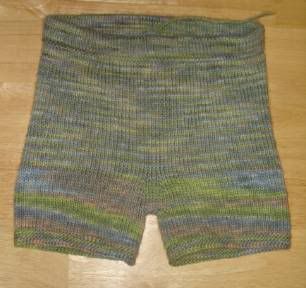 At least that's what I said as I sat down to post this picture... but the put the picture in part isn't working, so I can't make it all prettified with the text to one side and all. I get discouraged.
And then I go back to check it and it works. So pretty it is!
Yes the laptop is at best buy again getting "repaired." I am trying to convince John to sell it so we can buy a new Apple. Like the trusty machine I'm on. 7 years old, going mostly strong, and has only needed a repair once in its life.
But anyway....
The above picture is of Niall's shorts, using the "birds" colorway from 100purewool. What strange shorts. They look green and then you get closer and they're all these colors. Very nice. Of course, I haven't put the elastic in the waist or tucked in any ends inside. I tend to procrastinate doing that. But it was only 73ish today, so my motivation for shorts is pretty low. I'll get them done eventually, and then take pictures of them and the fresh blue ones I did (same yarn) and put them in the gallery.
This is where I am on Melissa's order as of about 9 pm.
These are nice and thick, using lamb's pride bulky. On 7s. Overkill? Maybe. But when it's for night I go for bulletproof, and these are nice and stretchy still. 4.5sts to the inch means they're working up quickly too.
I need to get some peace fleece...