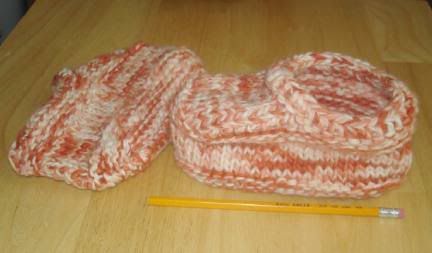 I'm enjoying this break from knitting soakers. It's refreshing to knit something that isn't in the round, and isn't just straight knit stitches. These are Rowan's new slippers, before felting. I knitted them last week, but promised him that he could be there for the felting, and between naps and going out of town for the weekend we just didn't get to felting them until today. They are knit with 100purewool in the brique colorway, held doubled so I could make guage without having it so loose it would shrink to nothing. I put a #2 pencil in the picture so you could see the difference in size pre- and post felting.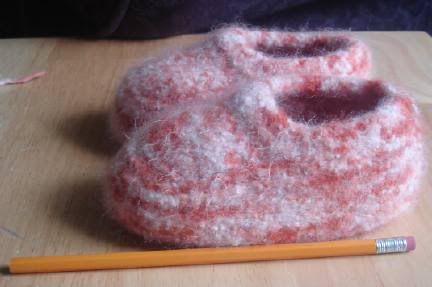 Rowan was very impressed with his "shrinking slippers" as he called them. I think I will make these in mass quantities over the next few months, and have my Christmas gifts all taken care of. :)
Oh yes, the pattern is the Felted Mocs pattern from
Little Turtle Knits
if you'd like to make them for yourself.