I'm not going to write and post a bunch of Christmas pictures. There are a quite a few, but I was not feeling my best so there aren't as many as there could be and what's there isn't that great. They'll be up on snapfish soon - I'm going to make an effort to do that again.
Christmas morning was really good though, and Rowan had the best reactions. His face for almost every present that anyone opened looked like this: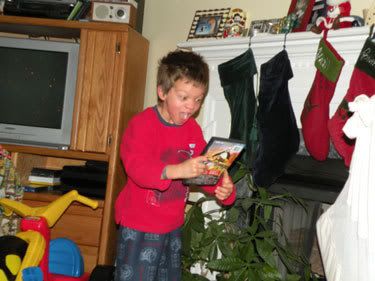 The boy was excited.
We had fun. We played. We ate turkey. We played some more. It was good.
Eleri didn't do much, but she looked cute.
Longies by
Cece of Knit Candy
. Yes I bought some knitting. Hey, it was on sale, and I should support other knitters, right?
We're stretching Christmas out too. Tonight we made a gingerbread house. It's dairy free!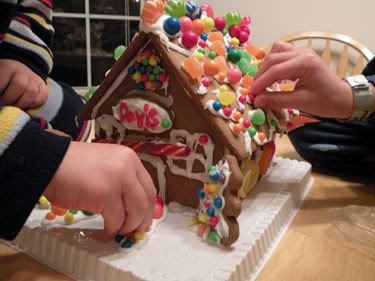 Tomorrow John and I will celebrate our 8th wedding anniversary. Sharon and Scott will stop by for lunch. And Mamaw is supposed to get here on Thursday since she missed Christmas. I love this time of year!