It all started when Mom brought us a Squeeze My Cheeks Reindeer for Christmas. A patient made it, so she only had one, but I have 2 boys (plus the baby, but she's not at the squabble age, yet). I hadn't seen one in years, but I remembered getting them from somewhere... little old ladies at church, maybe the bank? Probably from Grandma - she was always a source of things like that.
Anyway, I needed another one. I looked around online for how to do it, and I found one for
this mouse
, but it didn't have pictures and it wasn't the Santa that I remembered from my childhood. So, I had to figure that part out. And once I did, I sewed it together wrong, so I decided to write out how to do it, with pictures, so it might help someone else. And I might need these if we decide to make some more. We probably will because I have a bunch of leftovers, even with having to make 2 to get one sewed together properly.
I didn't even know if they made that plastic canvas stuff anymore, but it turns out they do! You can get it at Walmart - a pack of 6 sheets is only a couple of bucks.
Step one, cut out 3 squares that are 10 squares wide.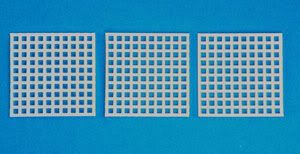 Start filling them in. I found that doing it across the diagonal gave it the best coverage. This is super easy to do. Rowan is 7, and he had a lot of fun filling in one of the squares for me.
You need to make 2 squares in red, and one square in the Santa face pattern. Here's the one that I designed. I think it might look better to use pink for his skin instead of yellow, but yellow is the yarn that I had, so that's what I went with for now.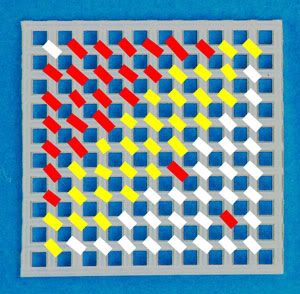 You'll need to use your judgement for eye placement. It looked off when I tried to draw them on there. Or you could use googly eyes. It would be fun to do that and use a small pompom for the top of Santa's hat.
You need to finish two edges of two of the squares so you have a nice opening. This is one of the places I messed up before! I finished the edge that was all Santa beard, and then one edge of each of the other two squres. That's NOT what you want to do. Finish two edges of a red square and leave the other square alone. Make sure you do 2 or 3 stitches in the corners, so the plastic is all the way covered. I did 2 on the sides since they would end up being sewn, and 3 on the corners that would end up being the front.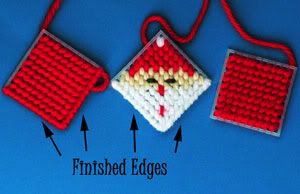 Now it's time to sew it together. I really don't know how to explain it well, so have another picture.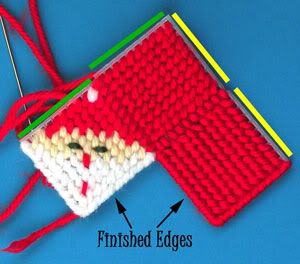 The square on the top is the one that didn't have any edges finished. You need to make sure the other two finished edges match up like shown. Then you will sew the green sides together, and the yellow sides together. It looks like it won't work, but it will, and you get a fun Santa!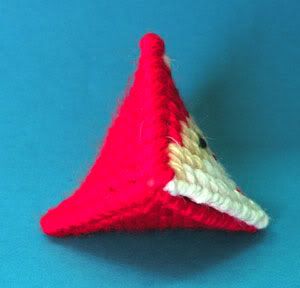 Isn't he cute? If you squeeze his cheeks, he'll give you a kiss.