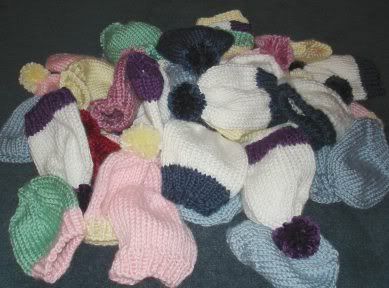 I had this idea.
I needed something to do for Lent. Something that would make things a little better than they were before.
My friend,
Grumpy
, once did a spell of knitting for her hospital's NICU. I thought that sounded just right. I'd be giving my time, my skill, and my yarn to some of God's smallest children.
Lent is 40 days long. So I chose 40 hats. I figured I could do one a day, and all would be well. I could contemplate and think while I knit, and knitting for babies is always fun.
It didn't quite go that way.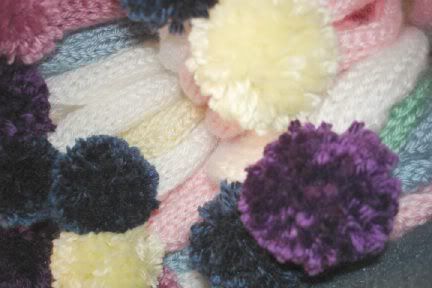 I started off easily enough. Knitting a hat a day. And then things got in the way... the kids, life, a trip out of town to visit family, allergies.... I had to come to a reckoning with myself. Was I going to do this or not? It was a promise I had made to myself, and to God.
I got my needles, I put all other knitting aside, and I set out to really do this. And I thought.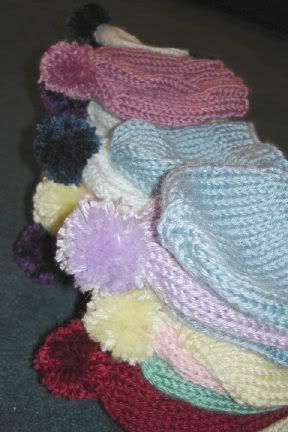 It was hard.
I thought of the moms who would pull out a teeny hat in another 18 years, and marvel at how far their little one had come from those days in the NICU. I also thought of the moms who might pull out a teeny hat every year, and wish for the baby they never got to bring home. I thought of my blessings, and the things I could do to make life better for my family. And for every hat I thanked God for my children and my life.
I guess I managed a Lenten journey after all.
So today I finished the last hat. I piled them on the floor so that I could marvel at the joy that was 40 baby hats. I took pictures from several angles, because once I take them to the hospital, I will never see any of these hats again. And they're probably the most meaningful little things I will ever knit.
I'm going to do this again.
I wonder if I can get 100 Santa hats done by the end of November?