I've been doing stuff. We went to Atlantic Beach this weekend for a fish conference. Good times. LOVE sharing the hotel room with the boys. Oh wait no I don't.
We know that Mommy needs her downtime in the evening. She really needs it. And when two little boys are in her hair until 11, and then get up at 6... ya.
But we did have a spectacular view.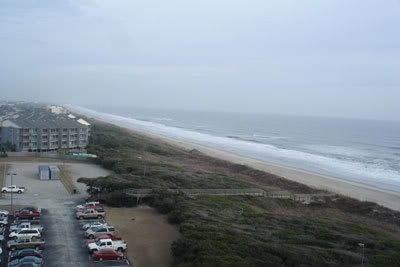 and we did get to go to the aquarium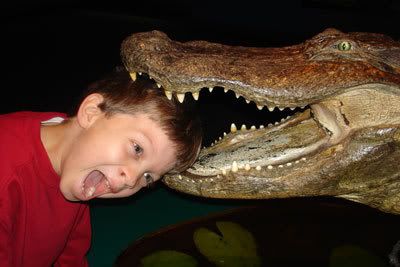 I should have let it eat him.

I finished Chelle's pants before we left:
and need to get them washed and have their real picture to be in the mail when the post office opens on Tues.
And Rowan needed a new hat, so I did that today:
I really don't have any really great stories from our trip. It rained, a lot, and we swam in the indoor pool, ate at the 4 Corners Diner (twice) and just chilled with the fish-a ba-arn people a little. I like those guys. And ate yummy all you can eat fish. That was nice too. So aside from the minor irritation of being "on" for a while, it was a good trip.
But next year, we're farming them out and going on our own.