It's been making me really dizzy to knit. Very dizzy. and that makes me make mistakes that I have to go back and fix. Over and over and over. And I've had other things on my mind...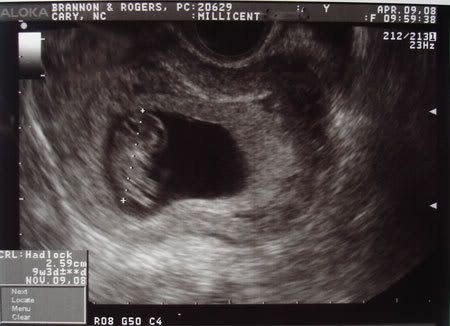 Yes, Baby D #3, also known as "The Occupant," is scheduled to arrive sometime around the 9th of November. Am I a little bit nutsy? Probably. But look at the cute little blob up there and tell me you didn't saw awwwww. :) And anyway, I've said over and over that I'm pretty good at motherhood. It's what I do.

Some of you may remember the horrendous time I had when I was pregnant with Rowan. And then with Niall, it was still pretty rough, but not as bad. This time it's still not a walk in the park, but it's worlds better than I've ever had it before. Dizzy and not knitting for a few weeks? That I can cope with. And they say that since it's normal morning sickness it should pass sometime in the next couple of weeks. Then all I have to do is get large. And we ALL know how well the woman with no waist does that.