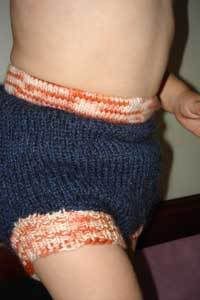 Remember this soaker?
How lovely. How pretty. How well it fit.
Gack. I killed it.
I washed it, lovingly, in the sink.
I put lanolin on it. I let it soak.
I put it in the washer to spin so it would dry quickly in time to be worn tonight.
I forgot it.
I washed it on hot. HOT hot. With a cold rinse.
And then I threw it in the dryer.
*sob*
Now on the needles... A replacement. I wonder how fast I can knit it?